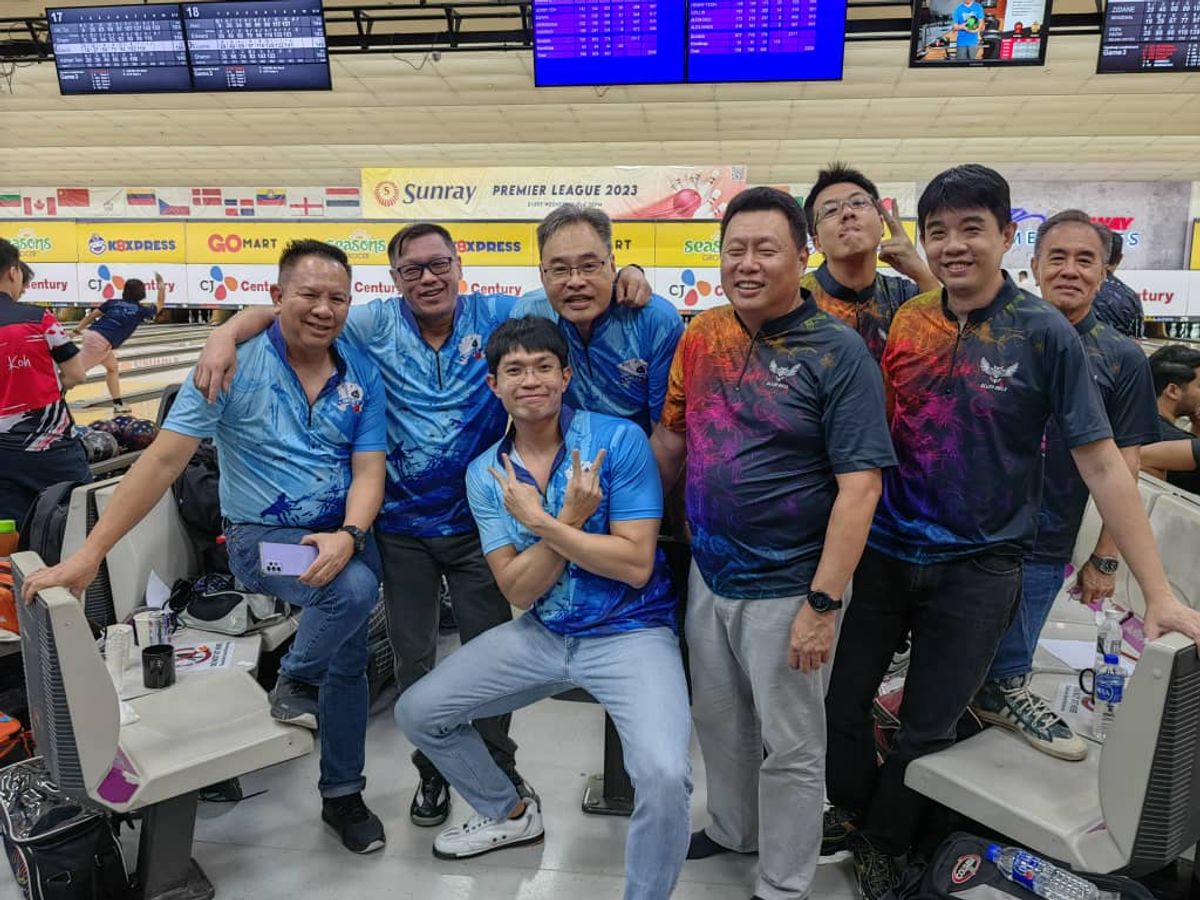 20 September
Packed with friends and team mates, this week's clash between team Uncle Z and Alley Owl has captured the spotlight in Sunway Megalanes!
Frontman Jerry Teh and Henry Teoh had slow starts in their first game as Jerry managed to claim the point with a 168 (inc. handicap) game against Henry with a 156 game. Game 2 was reclaimed by Henry as he managed to get the upper hand by the slightest of margins, winning with a 189 to 170 game. However, Jerry managed to find his groove in his final game and posted a solid 229 game, clinching the 3-1 victory as Henry only managed to post a 200 game.
In the second bowler spot, Edwin from team Uncle Z went head on with Collin from team Alley Owl. The first 2 games were dominated by Edwin with 199 and 256 games, while Collin came in short with 176 and 169 games. Collin found his groove on the 3rd game with a 216 game compared to Edwin's 162 game, but lost the total pin score to Edwin thanks to his solid 256 game. Edwin wins 3-1.
The 3rd bowler spot was a battle between the two outside line bowlers, Maradona from team Uncle Z and Alvin Neo from Alley Owl. Alvin had a slow start while Maradona clinched game 1 by maintaining pace with a 211 game. Alvin regained the driver seat on the second and third game by posting solid games of 215 and 222, while Maradona only managed to put up 195 and 218 games, falling slightly short of Alvin's games. However, Maradona won the total pinfall point with a 624 series, while Alvin was just 9 pins shy with his 615 series. The match ended 2-2.
The anchormens Andrew from team Uncle Z and Alex Khoo from Alley Owl posted high scores, with Alex claiming the first game with a 218 versus Andrew's 207 game. Andrew came back guns blazing with a stunning 255 game while Alex only managed to maintain a 193 in his second game. Andrew continued applying pressure and he punched out his final game with a 234 score, while Alex only managed to stay clean and couldn't find the strike train, finishing with a 192 game. Andrew wins 3-1 with a 696 series versus Alex's 603 series.
Team Uncle Z dominated this week's clash with Alley Owl and secured the victory with a 21-5 point scoreline! Congratulations to team Uncle Z!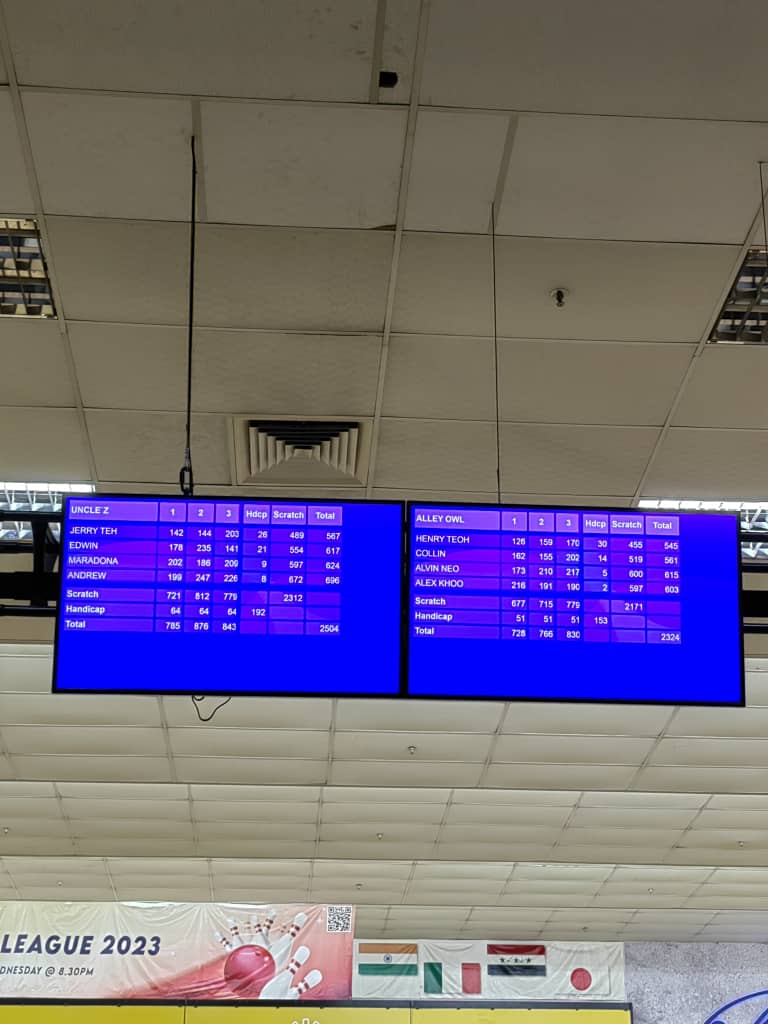 Meanwhile, Team We Are Back feels that They Are Back! As all team mates gather to watch their match against team Yoyo. Fastforward to the final score - they both TIED on Team Total Pins with a score of 2371 - 2371 !! That's really rare!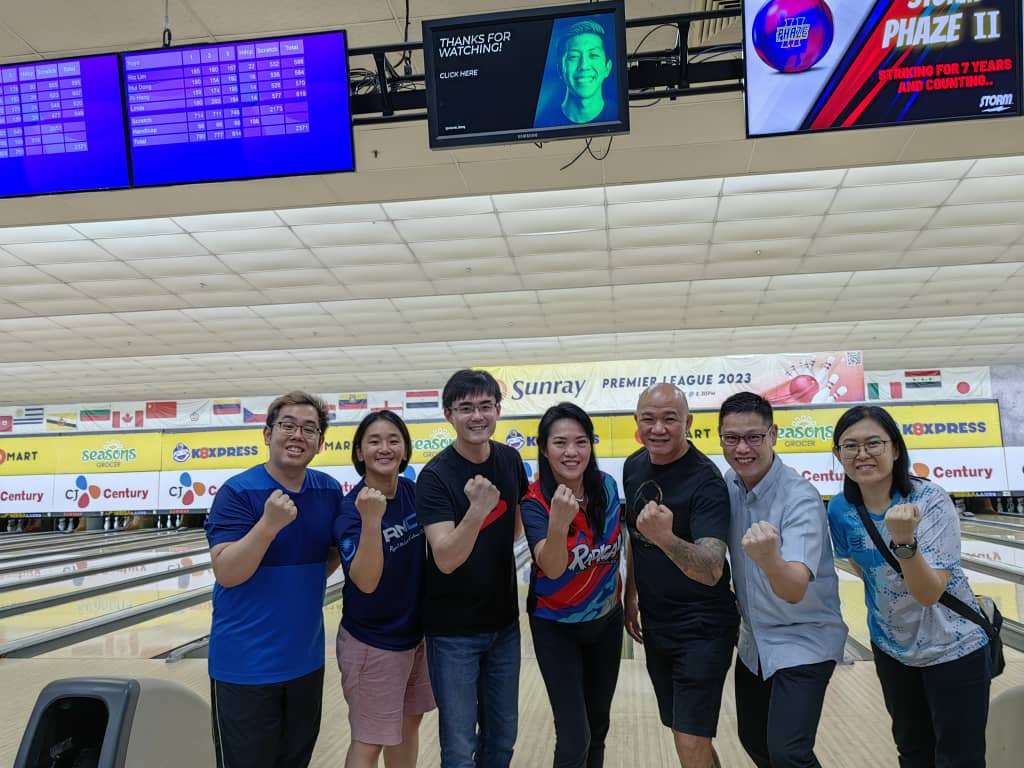 Team We Are Back with bowlers (From the Left) Melvyn, Lu, Wayne, Michelle, Eddie, Mun Loong and Jacelyn.
Team We Are Back got the upper hand as they won 14-12, thanks to Michelle's high series of 620 and Melvyn's high game of 244 that earned them the extra point!
The Sunray Premier League never fails to surprise us! This week's clash has seen plenty of surprises, but most importantly the fun and entertainment that comes along when bowling league with friends! Congratulations to all bowlers! Stay tuned for next week's edition of the Sunray Premier League!