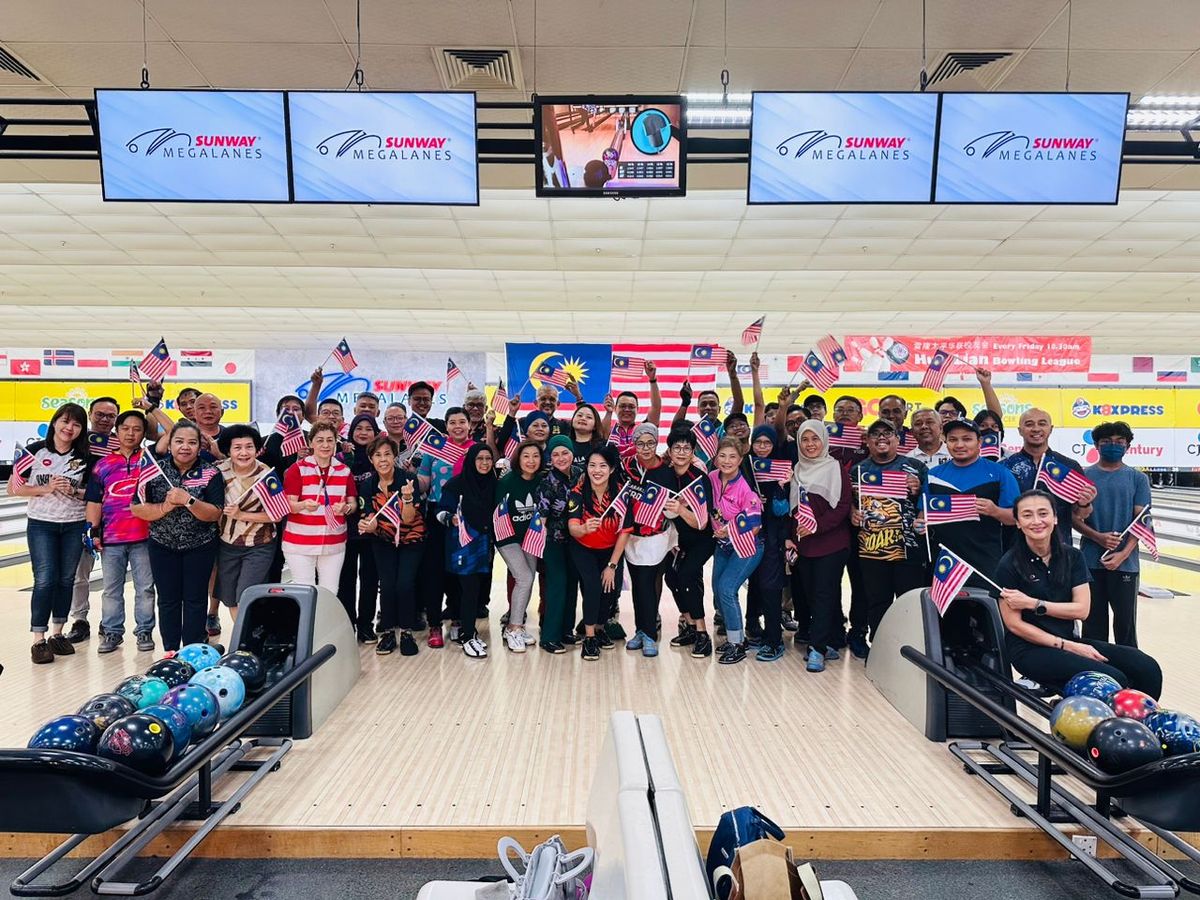 The Malaysian Flag - Jalur Gemilang has been waving high throughout Thursday's AM Clash in conjunction with Malaysia's 66th Independence Day celebration in Sunway Megalanes!
A total of 47 bowlers participated in the Thursday AM Clash, in which bowlers will bowl a total of 6 games and the top 3 will be seeded for the stepladder finals. Alex Tee successfully secured his top seed spot by putting up a commanding 1369 series (228 average) over 6 games. Sitting in second place is Kenny dominating the right side with his bread and butter line throwing up the boards, maintaining a strong 1307 series (217 average). It was a close fight between the 3rd and 4th seed, as Kelvin slowed down in the final game with a 193 game while Everton attempted a last minute sprint with a 225 game to overtake the 3rd seed. However, Everton was shy of 14 pins and Kelvin maintained his spot at the number 3 seed.
Number 2 seed Kenny (Furthest Left), Number 1 seed Alex Tee (Middle), Number 3 seed Kelvin (Furthest Right)
The stepladder commenced with the number 3 seed, Kelvin challenging the number 2 seed, Kenny. Kenny started strong and secured a commanding lead in the first 8 frames by stringing strikes and staying clean, while Kelvin had a rough start and struggled to pick up the pace, having only a double in the 8th and 9th frame. The first stepladder match ended with Kenny claiming the victory with 216-173 pins.
The final stepladder match was nerve-wrecking as both bowlers were neck-to-neck with each other. Kenny had a disasterous start with 4 opens in 5 frames, while Alex struggled to strike and could only start with the front 3 spares, opening the 4th, and striking the 5th. Alex had a 42 pin lead in the 5th before opening the door for Kenny to make a comeback in the 6th after he missed a single pin. Kenny strung a double but failed to convert a spare in the 8th frame. The match was over when Alex secured a mark in the 10th frame, claiming the victory with a score of 188-169. Congratulations to Alex Tee for being crowned the Champion in this week's Thursday AM Clash!
Congratulations to all winners!
This week's edition of the Thursday AM Clash has been special as not only did we all have the chance to witness high games, but also celebrating Hari Merdeka with the Satu Malaysia Spirit!
The Thursday AM Clash will commence every Thursday at 11am, in which bowlers will bowl a 6 game qualifying match and the top 3 bowlers will proceed to the stepladder final. Don't miss your chance to be featured in our official website!
Interested bowlers can contact
Michelle Wong : 012 209 6012
See you in the next Thursday AM Clash!
Selamat Hari Merdeka Ke-66 to all Malaysians!